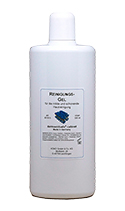 Reinigungs-Gel
Cleansing gel, 500ml
Gentle cleansing gel with sugar tensides. For all skin types.


Composition: The cleansing components of the gel are tensides on vegetable base, which are very gentle to the skin.

INCI: Aqua, Sorbitol, Pentylene Glycol, Glycerin, Coco-Glucoside, Cymbopogon Nardus Oil, Acrylates/Vinyl Isodecanoate Crosspolymer, Xanthan Gum, Diisopropyl Adipate, Geraniol, Citronellol, Limonene, Citral.

Properties: The gel has mild but intense cleansing properties. It is suited for all skin types.

Application: The cleansing gel is applied in circular motions and rinsed off with water.

Remarks for persons susceptible to allergies: The cleansing gel contains an essential oil: Lemongrass oil (Cymbopogon nardus) as well as a gentle sugar tenside: Coco Glucoside

Shelf life: 36 months at appropriate storage conditions unopened.