ATOPIC DERMATITIS
In industrial countries, there is an increasing number of allergies and atopic dermatitis to observe. An interesting phenomenon also is dehydrated skin and more and more people complain about the symptom. There is however no need for an extensive research just to find out that cultural influence plays a major role in this connection. One reason among others is frequent skin cleansing combined with the washout of protective substances and the intense however inadequate care of the skin.
For the purposes of a preventive corneotherapy though the following issues are of major importance:
Avoiding skin care products which contain harmful substances such as irritants and allergens
Selecting skin care products with appropriate skin care substances
Individually adapting the skin care products to the specific skin problems
Reducing excessive hygienic procedures like washing and showering
Avoiding inadequate, tight and occlusive clothing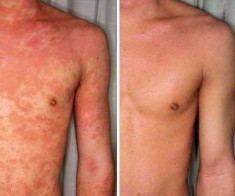 Among the obviously harmful substances are surfactants, emulsifiers, preservatives and allergenic perfume substances. Although increasing the skin hydration, it should be kept in mind that occlusive substances minimize the regeneration of the skin on the other hand. Occlusive substances are paraffin oils, petrolatum and mineral waxes specifically in high concentrations. An excellent alternative in this case are triglyceride based lipids which are adapted to the physiology of the skin. Appropriate skin care substances are those related to the stratum corneum. As the barrier layers of the stratum corneum have the same structure as lipid bilayers, skin-related preparations are an advantage as in contrast to emulsifiers they may also be equipped with a membrane structure. It has been known for quite some time that stratum corneum lipids in combination with water and ultrasound may form liposomal structures. This means that, just the other way round, liposomal products are also perfectly suitable for corneotherapeutic purposes. Skin care products with membrane structure may be individually adapted to a skin with specific problems which is most important as the skin conditions may vary and as, on the other hand, further adaptations are possible in the course of the therapy.
Recipes:
| | |
| --- | --- |
| Prevention of atopic dermatitis. Relieves inflammation, itching, dryness. Restores the protective barriers of the skin. | 44ml DMS®-Basiscreme High Classic Plus |
| Massage cream. Supportive prophylaxis of atopic dermatitis. | 1/3 Oleogel® Plus |
| Application for the prevention of atopic dermatitis. | 44ml DMS®-Basiscreme High Classic Plus |