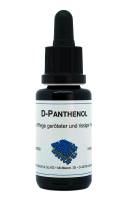 D-Panthenol
D-Panthenol 20ml
Care of irritated and fissured skin and after laser treatment. Moisturizing and stimulation of cell proliferation.


Composition: Provitamin B5 (panthenol) in aqueous solution.

INCI: Aqua, Panthenol, 1,2-Hexanediol, Glycerin, Sorbitol, Xanthan Gum.

Properties: Panthenol is a provitamin of the vitamin B complex. It increases and regulates skin hydration by improving the hydration capacity (moisturizer) and supports the regeneration of the skin and specifically, the cell formation. Panthenol has a smoothing effect on the skin. Among others panthenol is transformed to pantothenoic acid (constituent of coenzyme A).

Application: Additive for DMS® base creams for rough and cracked skin. Local skin treatment by applying the pure concentrate.

Remarks: The concentrated active agent should be applied sparingly to the skin similar to dabbing in an ampoule product.

Shelf life: 36 months at appropriate storage conditions unopened.