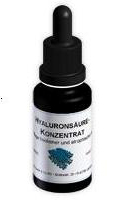 Hyaluronsäure-Konzentrat
Hyaluronic acid concentrate 20ml
Moisturizing care of atrophic and dry skin. Biotechnological hyaluronic smoothes and moisturizes the skin.


Composition: Hyaluronic acid sodium salt in aqueous solution.

INCI: Aqua, Pentylene Glycol, Alcohol, Glycerin, Sorbitol, Sodium Hyaluronate, Xanthan Gum, Hydroxyethylcellulose, Sodium Carbomer.

Properties: Hyaluronic acid is a natural mucopolysaccaride, which contains glucoronic acid units linked with N-acetyl-D-glucosamine. The acid and its sodium salt are very effective moisturizer in skin care products and play an important role in the physiology of the skin.

Application: Additive for DMS® base creams for skin, which requires hydration, and atrophic skin, also around the eye. Local skin treatment by applying the pure concentrate.

Remarks: The concentrated active agent should be applied sparingly to the skin similar to dabbing in an ampoule product.

Shelf life: 36 months at appropriate storage conditions unopened.