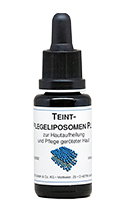 Teint-Pflegeliposomen Plus
Complexion skin care liposomes Plus, 20ml
For even complexion and care of reddened skin
Inhibition of melanin formation and stabilisation of peripheral blood capillaries.


Composition: The liposomal concentrate contains tranexamic acid (trans-4-aminomethyl cyclohexanecarboxylic acid) and vitamin B3(Niacinamide).

INCI: Aqua, Alcohol, Pentylene Glycol, Glycerin, Lecithin, Niacinamide, Tranexamic Acid, Sorbitol, Xanthan Gum, Disodium Phosphate, Potassium Phosphate.

Properties: The product causes an even complexion and reduction of skin redness. It can also be used for skin which is prone to rosacea.

Application: Additive for DMS® base creams. Local skin treatment by applying the pure concentrate.

Shelf life: 30 months at appropriate storage conditions unopened.