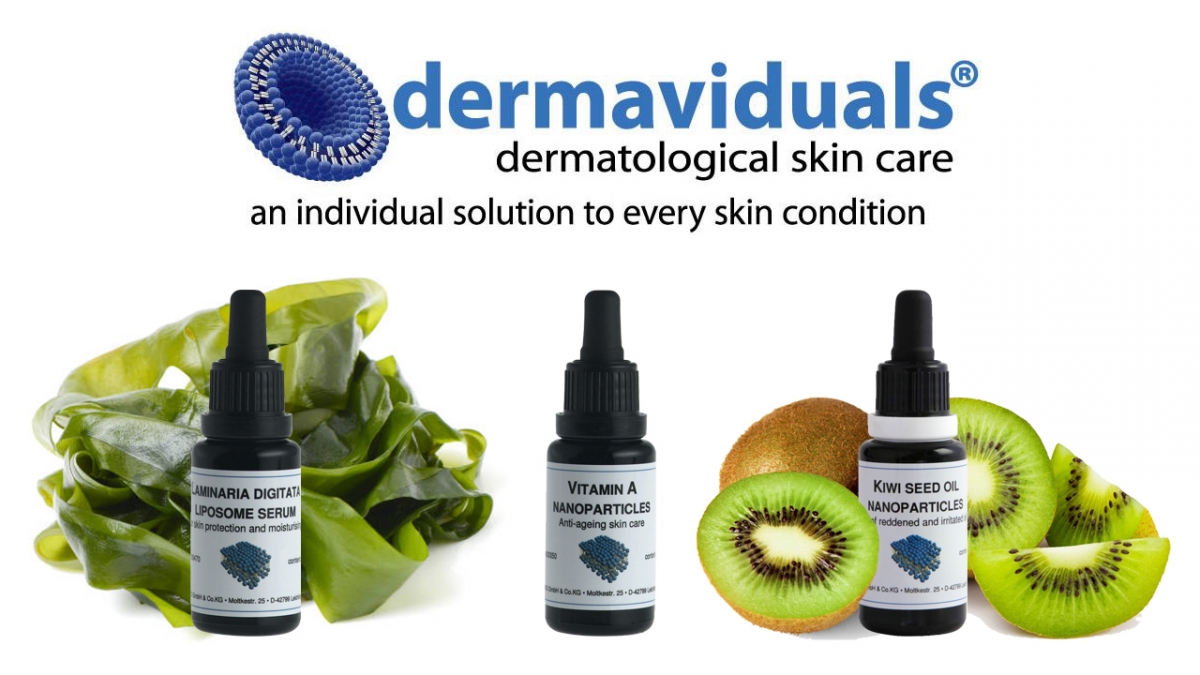 Special offer in April for active concentrates
Only until the end of April you have the opportunity to purchase an Alga modelating mask with a 20% discount!
★ Laminaria digitata liposome serum 20ml
Skin protection and moisturizer. Oar kelp (Laminaria digitata) belongs to the family of brown algae which is frequently found along the European Atlantic coast.
Composition: Liposomally encapsulated extract with additional moisturizers.
INCI: Aqua, Glycerin, Pentylene Glycol, Alcohol, Lecithin, Sorbitol, Hydrolyzed Algin, Laminaria Digitata Extract, Disodium Phosphate, Potassium Phosphate, Xanthan Gum.
Properties: Laminaria digitata contains different types of sugars, proteins, amino acids, vitamins as well as minerals and trace elements. The extract stabilizes the skin hydration and its efficiency can still be intensified by an additional special alginic acid hydrolysate. Liposomes consisting of pure natural phosphatidylcholine support the penetration of low-molecular components and supply linoleic acid which is essential for the skin barrier function. Despite of its outstanding efficacy the product is nearly odourless.

★ Vitamin A nanoparticles 20ml
Regenerating care for mature skin. Anti-aging skin care. Vitamin A supports the regeneration of mature skin.
Composition: Active agent complex with vitamin A (6000 IU/g) and highly enriched phosphatidylcholine (PC) in aqueous nanoparticles.
INCI: Aqua, Pentylene Glycol, Glycerin, Sorbitol, Olea Europaea Fruit Oil, Alcohol, Retinyl Palmitate (6.000 IE/g Vit. A), Tocopherol, Ascorbyl Palmitate, Ascorbic Acid, Lecithin, Caprylic/Capric Triglyceride, Xanthan Gum, Citric Acid.
Properties: Nanoparticles stabilize vitamin A in particularly high dosage and optimally transport the active agents into the skin. Vitamin A supports the collagen formation and promotes the regeneration of the skin. Vitamin A is also recommended for the treatment of prematurely aged skin due to UV influence.
Application: Additive for DMS® base creams for the treatment of mature skin. Local skin treatment by applying the pure concentrate.
!!! Vitamin A nanoparticles and products containing vitamin A nanoparticles should not be applied onto sun-exposed skin as this will induce a fast decline of Vitamin A activity. Best results are achieved when the products are applied in the evening.!!!

★ Kiwi seed oil nanoparticles 20ml
Care for reddened and irritated skin. In cases of connective tissue disorders, the combination with Liposome concentrate Plus (contains azelaic acid) is recommended.
Composition: Biodegradable aqueous nanodispersion based on phosphatidylcholine.
INCI: Aqua, Caprylic/Capric Triglyceride, Actinidia Chinensis Seed Oil, Pentylene Glycol, Lecithin, Glycerin, Hydrogenated Lecithin, Tocopherol, Ascorbyl Palmitate, Ascorbic Acid, Sorbitol, Urea, Alcohol, Xanthan Gum, Citric Acid.
Properties: The watery dispersion is quickly absorbed by the skin. About 61% of the fatty acids of kiwi seed oil are essential omega-3 fatty acids. That implies the highest concentration among all the popular fatty oils. Yet, the minimum shelf life of the dispersion is 24 months which is quite a long time in comparison with other unsaturated oils. The golden colored oil is gained from the tiny seeds of the kiwifruit through cold-pressing. In other words, the oil is rare and expensive. Applied on the skin surface, omega-3 fatty acids are characterized by their high anti-inflammatory potential. Hence, kiwi seed oil is used for the soothing but also for the daily and preventive care of the reddened and irritated skin.
All active concentrates can be used as an additive to KOKO Dermaviduals base cream or in pure form.

*** The quantity of goods is limited.